Tuesday, March 6, 2012
11:05 AM | Posted by Lori |
|
Edit Post
This tutorial was written by me, Lori, on August 5th, 2010.
And it was written for those who should already have a basic knowledge of working with PSP. I used Paint Shop Pro XI
Do not copy this tutorial and post it through any group or claim it as your own. Please share a text link only. If you use this tutorial please send me a copy of the tag you made with it to my e-mail to the left. I'd LOVE to see the creations and post into my slide show! Thank You!
Any resemblance to any other tutorial is strictly coincidental.
Supplies needed
Tube(s) of choice, I used the Gorjuss Artwork by ©Suzanne Woolcott, you must purchase a license found
here
.
PTU Scrapkit by Tamsin McAtee Studios called "Duck Duck Goose" (no longer available) .
Tag template#67 by Yvette of Essence of Creativity and can be found
here
.
Word art by Lori (not me..lol) and can be found
here
.
Plug Ins, Xero and Eye Candy 4000.
Font of choice (I used Chancery Cursive)
Mask of choice.
Please remember to stop and save often.
Add drop shadow of choice as you go. Refer to my example as needed, merge layers down as needed to make things a little eaiser.
Let's Rock this Tutorial!!
Open the template in PSP, using your shortcut keys on your keyboard (SHIFT+D) duplicate the template as a new image. Close the original.
Open papers of choosing,m inamize for later use.
Delete wordart layer.
Go to circle 1, go to Selections-All-Float-Defloat, add new raster layer and paste paper of chooing into selection. Delete original layer. Do this with all circles, Frames and Square Backgrounds.
Go to the Stitches and with your change color tool change the color to black, or one of your choosing.
Go to square background 1, paste tube of choice as a new layer, resize and arrange to liking. Duplicate layer, go to Image-Mirror and arrange to liking in square background 3. Go back to square background 1, Select-All-Float-Defloat-Invert, go to the tube layer and hit the delet key on your keybord. Do the same to square background 3.
Add another tube of choosing by the same artist, and repeat the above steps to square backgrounds 2 and 4.
Go to the tube in square background 1, duplicate layer, go to the original tube layer, go to Adjust-blur-Gaussian Blur with the settings in the image below:
Go to Duplicated layer, go to Effects-Xero-Porcelian using the settings in the image below:
Go to Effects-Photo Effects-Black and White Film using the below settings: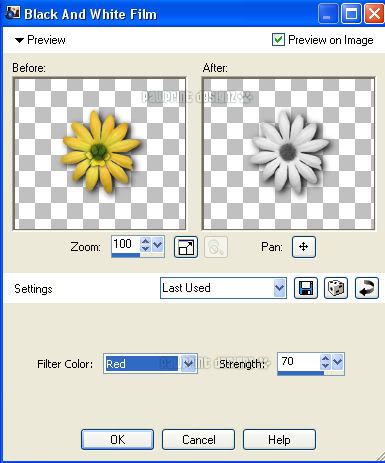 Go to your layer properties set the visiablity to 40. Do the same to the tube in background 4.
For the tubes in backgrounds 2 and 3 use the same Porcelian settings for each.
Add any elements of choice. Add another tube by the same artist and arrange behind the background layers.
Open wordart of choosing, paste as a new layer, arrange to your liking. Go to Select-All-Float-Defloat, add a new raster layer, paste paper of choosing into selection. Arrange this layer below the wordart layer, add a black Graident Glow of choice.
Go to raster28, Select-All, add new raster layer and paste paper of choice into selection. Go to Layers-Add new mask layer and add mask of choice.
Add name , Copyright info, license and save!
Thanks for Rocking Out my tutorial, I hope you enjoyed! ~Lori