Thursday, August 18, 2011
8:59 PM | Posted by Lori |
|
Edit Post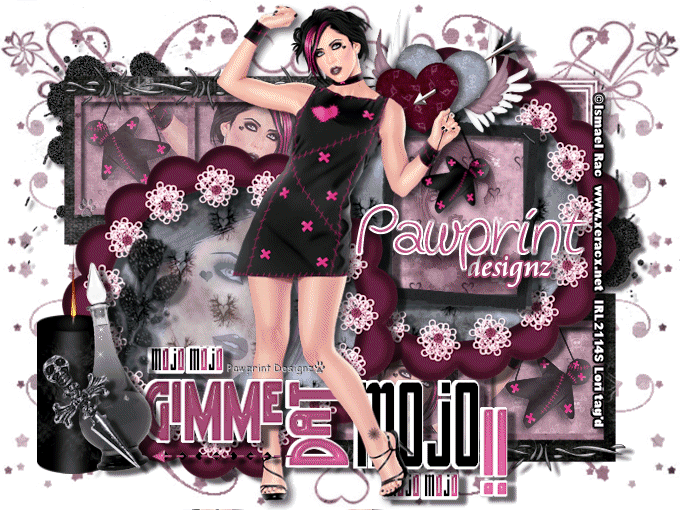 This tutorial was written by me, Lori, on Aug. 17, 2011.
And it was written for those who should already have a basic knowledge of working with PSP. I used Paint Shop Pro X3
Do not copy this tutorial and post it through any group or claim it as your own. Please share a text link only.
Any resemblance to any other tutorial is strictly coincidental.
Supplies needed
Tube(s) of choice, I used the Artwork by
©Ismael Rac
you must purchase a license found
here
.
PTU now FTU Scrapkit by Shani of
Wicked Princess Scraps
called Melancholy Love and can be found
here
.
Tag template by
Missy of Divine Intentionz
and can be found
here
.
EyeCandy plug-in (I used 4000)
Mask of choice.
For animation, sparkles of choice.
Animation Shop if you choose to animate.
(instructions will be below the tutorial.)
Please remember to stop and save often.
Add drop shadow of choice as you go. Refer to my example as needed, merge layers down as needed to make things a little easier.

Let's Rock this Tutorial!!
Open up the template.
Shift + D.
Close out the original.
Resize canvas 800x600, you can resize/crop at the end.


Highlight Raster1 layer
select-all add new raster layer
paste paper 2 into selection.
Deselect.
Add new mask layer of your choice.

Highlight the top left halftone layer.
Open element GLITTERSPLAT
Mirror and arrange to liking on top left side.
Duplicate-mirror-flip
arrange to the right middle of tag.
Delete both halftone layers.
Highlight the bottom right rectangle layer.
select-all add new raster layer
paste paper 2 into selection.
Go back to bottom right rectangle
float-defloat-invert
hit the delete key on your keyboard.
Do the same to the top left rectangle layer
Delete both original layers.
Do the same to the
frames back
using paper7 and
Circle and Circle3 layers (blue circles)
using paper 17.
Add tube of choice to fit inside the frames.
Arrange and Resize to liking
delete any tube extending outside the frames.
for the top tubes, set visibility to 60%
and the bottom to 75%
Open element BARBEDWIRE
resize to liking and arrange
to the top left, duplicate
and arrange to the bottom right.
Open element SCALLOPEDFLORALFRAME
resize 70% and arrange over circle3
Duplicate and arrange over the first circle.
Delete all 4 original circle layers.
Paste tube of choice inside the bottom frame.
Delete/erase any tube extending outside the frame.
Go to layer properties set visibility to 37.
Go to effects-xero-porcelain
using the following settings.
(insert image)
Open the black frame element.
Resize to 50%
Arrange over frame layer.
Delete both original frame layers.
With your magic wand, click inside the frame
paste paper 11 into selection.
Add tube of choice, arrange and
delete any tube extenging. outside the frame.
Go to your layers palette
set the properties to luminance (legacy).
Go to the wordart by minx,
select inside the Gimme Dat the !!'s
and O's in the small mojo words.
add new raster layer
floodfill with color from kit or tube.
Do not deselect.
Go back to the original wordart layer and hit the delete
on your keyboad.
Deselect.
Go to the new Gimme Dat layer
Go to effects-eyecandy4000
Glass using the following settings:
(insert image)
Add elements,
GLITTERFLOWER, GRUNGECANDLE, BOTTLE
and SKULLDAGGER
in that order.
Re-size and Arrange to the bottom left.
Add any other elements if you like.
Add tube of choice
Add your name, Copyright info, license and save!
Thanks for Rocking Out my tutorial, I hope you enjoyed! ~Lori
For animation of flames:
Zoom in real close to the candle, with your magic wand click the flame on the candle until you have ants going around it. Zoom back out. Go to Plug in: EyeCandy 4000 Fire using these settings: Direction: 90; Column Length: 739; Flame Width: 13.86; Side Taper: 33.49; Movement: 33; Check Denser Flames; Check Start from far side; Random Seed: 67; hit ok. Select none and save as png, naming it 'frame1',
'frame2, frame 3, and so on.......
Do this until you have as many frames as needed.
For example, the sparkles in my tag has 16 frames,
I wanted 2 extra,
so I made 18 frames w/the flames and saved each as a .png in PSP.
Go to Animation Shop
Animation Wizard,
following each step as shown. (pawprints is what is clicked)
(insert images)
when the next window pops up click 'finish'
View and Save animation!
(If you need help in saving an animation, click
here.)